Coni Knepper is an author of several books, including four best-selling children's books, Flip Flop Drip Drop, Gurlge Gurgle Splat, Taka Taka Whoosh, Little Dude and When I Grow Up.
Coni Knepper will be in our Dar es Salaam Slipway branch, Masaki for a book signing events next Thursday and Friday.
Coni will be signing her books on both days from 11 am onwards.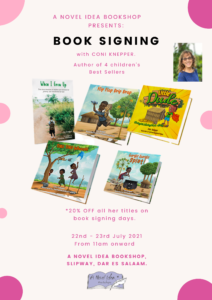 Coni will also be promoting her newest non-fiction book titled Get Out Of My Head: Replace Internal Struggles With Knowing The Voice Of God.
"Whether a new believer or a seasoned follower of Christ, these struggles are
real. Imagine your mind being clear of conflicting thoughts, free from chaos.
Envision living the abundant life God sees for you.
Get Out Of My Head provides answers and ten practical ways to implement
FREEDOM in your mind daily with clear teachings from God's Word. " 
The book signing for this book will be on 22nd July from 5pm to 6pm.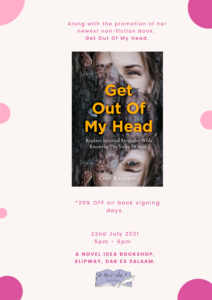 20% OFF all her titles on the book signing days.